From our belief that the best ingredients come from nature and that we have to be economical with our planet, we think it to be important that our products are prepared in the best sustainable way. The Le Duc brand products are therefore being pre deep-fried with sunflower oil, are GMO free and Halal suitable.  Quality of our products is our main priority, that is clear. That is why we are BRS and IFS certified en we produce according to the SQMS standards.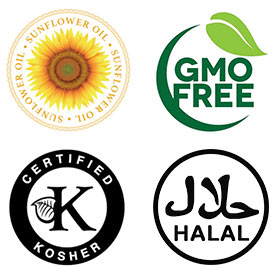 Le Duc prepares its brand products with sunflower oil. This oil is a vegetable oil, extracted from the sunflower(Helianthus annuus) seeds. It is a clear, golden yellow oil with a smooth taste. After straining the seeds the remaining flour is used as cattle feed. Frying oil from sunflowers contains mostly unsaturated fat and is therefore healthier than other frying oil. Le Duc knows how the harvests of natural ingredients like onion, (sweet) potatoes , vegetables like broccoli, corn and wheat. Of course all our products are vegetarian and where possible also vegan.

Manufacturing
The modern facility in Stellendam uses the newest energy efficient techniques and makes exclusively use of green power thus limiting CO² emission. All waste streams are separately drained, resulting in an ecological advantage. The facility is sharply managed to produce in an efficient manner, resulting in less waste. ck waste hebben. On top of this, these remainders are not disposed of but collected and worked up as cattle feed.